In the field of early dance, La Rossignol has always dedicated great efforts to the study of handwritten or printed direct sources and to the reconstruction of the choreographies, of the steps and of the styles explained and illustrated in the most famous dance treatises published between the fifteenth and seventeenth centuries. The proposals are always very effective and representative; the performers wear early costumes, play copies of early instruments and use executive styles of that period. By way of illustration, you can find here some proposals.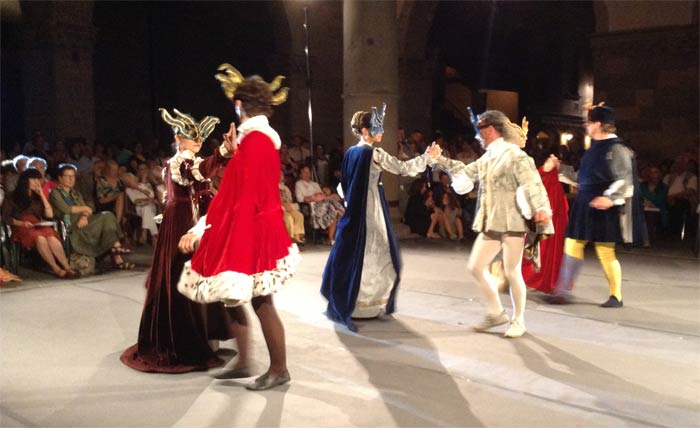 In the time of Leonardo
Courtly music and dances in the age of Leonardo da Vinci
Artist, scientist, genius, mathematician, Leonardo Da Vinci, the man who conquered all aspects of the artistic world, certainly studied music and dance as well.
His time was an epoch where "in which art is consumed as it is born", as he referred to music.
He lived during an incredible era when masterpieces followed one another in an amazing crescendo.
The program we offer is the result of a meticulous work of reconstruction of costumes, instruments, pieces of music and choreographies: it can be performed with a variety of artists and groups of musicians.
It shows a kind of journey through the court where Leonardo lived and worked recalling those environments, sounds and images.
---
Group: from 6 to 12 performers (Musicians and dancers)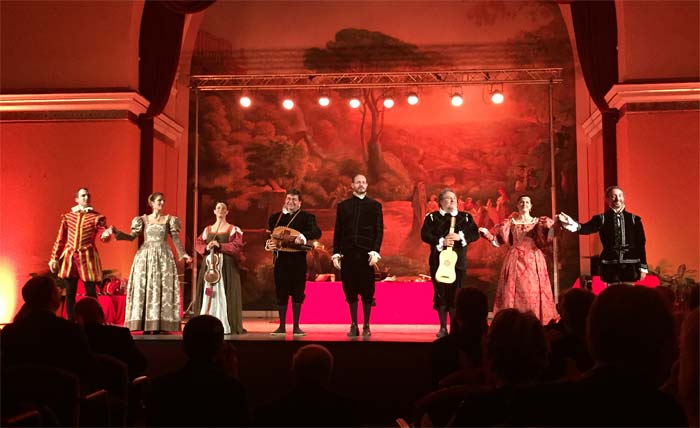 Balli et meraviglie nove
European music and dance
in the books of the Italian Renaissance
The Renaissance nobility paid great attention to the art of music. In this period music offers an age of incredible richness for the pleasure of the higher classes and the ideal of social life.
In Italy, even if it was divided into several States, high degree of experimentation took place, leading to a refined and elegant art, as it was the meeting place for all European musicians.
The invention of printing facilitated the circulation of musical scores and ideas: in the books printed in the famous Italian printing houses, there were a lot of pieces of music with evident references to cultures beyond the Alps: music maybe only imagined, but in any case filtered and re-interpreted by Italian brilliance; for this reason we can assume that the roots of "musical Europe" are here.
The performance, in costume, with copies of early instruments, offers a funny and moving way of revisiting those pieces of music and dances.
---
Group : from 8 to 12 performers (Musicians and dancers)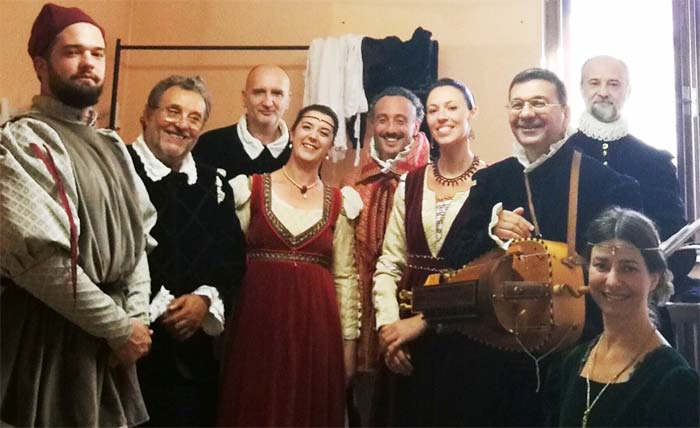 Con canti suoni e balli
Songs and dances at the Italian Courts
between the XV and the XVI Century
The cultural movement known as Italian Renaissance encompasses a long period of extraordinary growth, where masterpieces follow one another in a fascinating crescendo.
Magnificence joins with grace: the desire to astonish and the research for a more and more refined way of living induce the courts to adopt precise behavioural norms.
Music, dance and musical instruments become symbols with an intrinsic value: no longer simply forms of entertainment, but indicators of an environment where social conventions are becoming more and more complex.
Among the great Masters of dancing, Domenico da Piacenza, Guglielmo Ebreo da Pesaro, Fabritio Caroso from Sermoneta and Cesare Negri from Milan stand out.
It is thanks to these artists that the Renaissance dances become more than a simple form of amusement and of courtly technique, and assume the characteristics of a proper musical and dancing art: refined, elegant, and codified into precise written forms.
The performance is presented by international professionals wearing costumes of the XV and XVI century and playing very curious early music instruments.
The performance underlines the social and inter- relational aspects of of the Renaissance dances by recreating a typical Italian "festa" with its well-defied contrast of two different worlds: the musicians and servants preparing the feast, and the nobility amusing themselves with music and dances.
---
Group: from 6 to 12 performers (Musicians and dancers)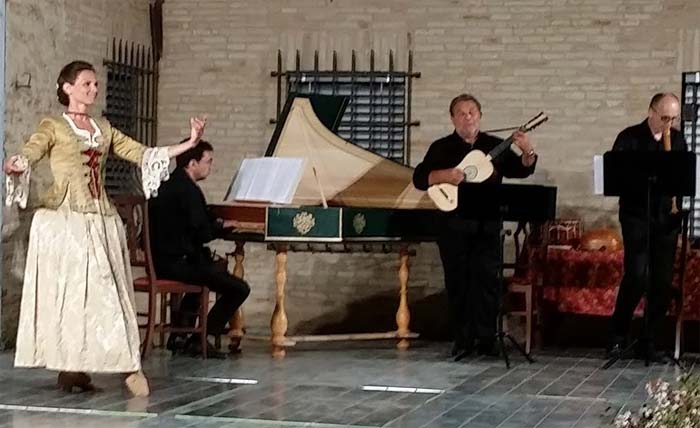 Festa Barocca
Baroque feast:
airs and dances between XVII and XVIII century
In the seventeenth century Europe there was the biggest explosion of dances of all time.
Dance becomes one of the most popular arts and, for ladies and gentlemen, dancing well becomes an important element in social success: dancing is no longer just fun, a technique of courtship, but a fine and elegant art, well-codified in printed books and treatises.
The main source of inspiration is "Della tragedia antica e moderna" a treatise published in 1715 by the Bolognese Pier Jacopo Martello (1665-1727) that describes the French, Spanish and Italian dance styles.
---
Group: 6 performers (Musicians and dancers)